4
Our Future Facing Global Warming Prevention

Initiatives for International Cooperation
International Cooperation in Promoting Low-car-bon
and Energy-efficient Products
Currently, policy introduction to promote high-efficiency products and the methods to appropriately evaluate energy-saving performance are under discussion in various ways in Japan while considering international frameworks. Japanese EE industries are proactively participating in these frameworks and making efforts to promote low-carbon and energy-efficient products on a global scale.
Initiatives for international standardization in the electric and electronic products sector
Regarding international standardization of quantification, reporting, and verification of greenhouse gas emissions, Japanese EE industries are advancing development of rational and transparent methodologies appropriate for the electric and elec- tronic products sector (IEC※11, etc.).
Also, through participation in activities to promote high-efficiency products under IPEEC※12 and in the implementation agreement for energy-saving evaluation by IEA※13, we are making various proposals globally for greenhouse gas emission reduction while also promoting the excellent energy-saving performance of Japanese electric and electronic products. (Fig. 20)
※11

IEC:International Electrotechnical Commission
※12

IPEEC:International Partnership for Energy Efficiency Cooperation
※13

IEA:International Energy Agency
Fig. 20 International standardization in EE industries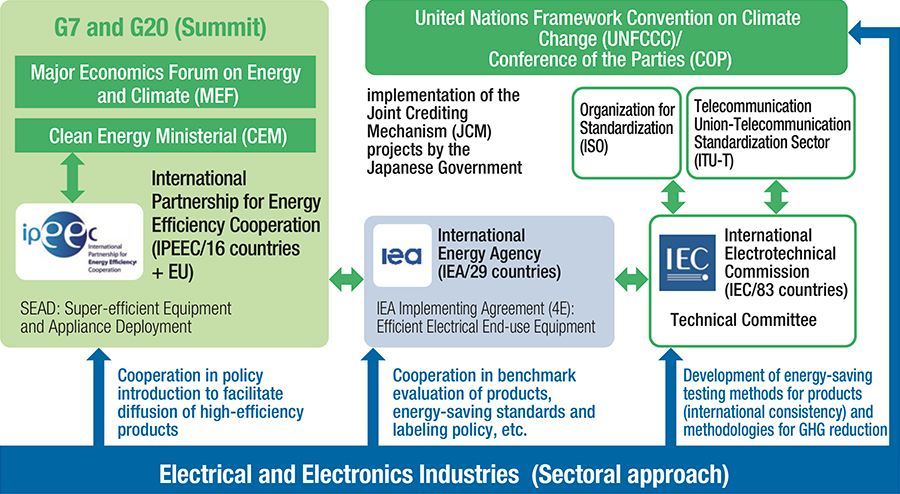 ---
Energy Performance Evaluation on Data Centers (DPPE)
The amount of information that data centers handle has been growing expo-nentially due to the spread of cloud-type services and IoT, and it has drastically increased energy consumption.
Under such circumstances, Japan, the United States and Europe collaborated to develop a set of metrics (DPPE※14) that evaluate energy efficiency of data centers using four elements. DPPE is the world's first successful holistic framework which includes a metric evaluating the usage of green energies and an index to express energy efficiency of facility and IT equipment.
The four metrics which constitute DPPE were proposed to ISO/IEC JTC1/SC39 as new work items (three of them were proposed by Japan) and approved in 2014, and all of them had been issued as international standards by 2017. (Fig. 21)
※14

DPPE:Datacenter Performance Per Energy
Fig. 21 Overview of DPPE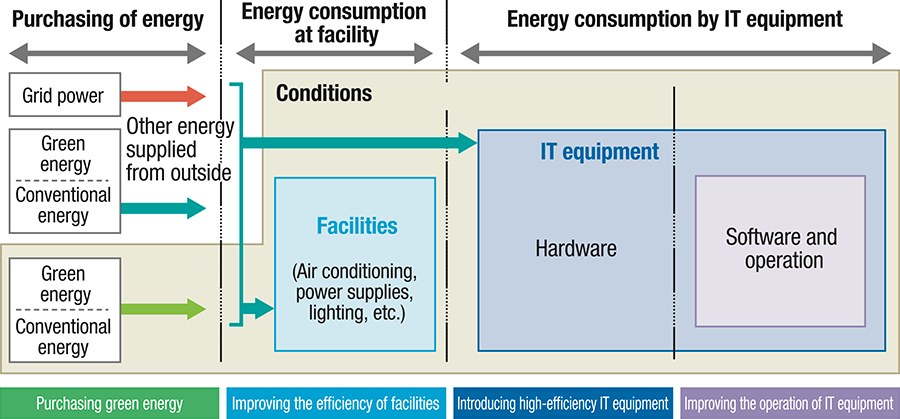 Source:Japan Electronics and Information Technology Industries Association